Steam Sales of Old
24 June, 2017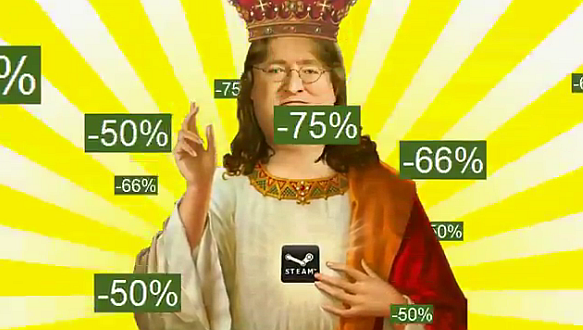 Steam's Summer Sale is here again! ♫
♫ Are you ready for a miracle ♫
I first hopped on Valve's Steam train back in early 2010, the start into my venture of going from console gaming to PC gaming. Not quite at the beginning of Steam in 2003, in which I would have been 9 years old! Actually with today's kids and all their accounts and devices that sounds about right to have a steam account at 9, but I never did. Since I created a Steam account, I have purchased 336 games on Steam alone, and that doesn't include games that are only on other services like Uplay or Origin, it also doesn't include PC games prior to Steam.

One of the many reasons behind Valve's success with Steam is that they have amazing sales, in comparison to when Steam was first made to when I started I don't know how the sales were but as soon as I joined up and started throwing money at our Lord and Saviour, Lord GabeN. 50% off, 75% off, and for once I could just downloaded everything, I didn't have 8+ disks to install! (The Sims 1...) Over the last year or so I feel like the Steam sales are going downhill, not as many games on sale, not as good discounts. I could be right, or it could be that I have amassed so many games that I just don't care about anymore games. Either way most recent sales I haven't really paid much attention to them, they have been quite uninspiring. Then comes along the sale that is currently on, and it's pretty good but it feels different, some good deals, but still something is off. After some research I noticed things that made Steam sales unique, and fun and more than just a sale you visit once, get a few things and leave.

I used to have the Steam app on my mobile and when I would go to school I would check the app each 4 hours, as there would be many different types on sales, flash sales, deals of the day (last for 24 hours) and they would transform the entire store into a theme. These days, it looks the same as normal Steam, no flash sales, no deals of the day, whichever price you see is the final price unlike many previous sales where you'd be looking back every so many hours to see if a game that is discounted, has been further discounted. Some people could argue I have no life, but honestly that was half the fun of Steam sales to me. Always checking, the hunt for the best discounts. Another thing that has overtaken Steam is trading cards, gems, profile levels, and special games relating to each sale, slightly differently where you earn cards and packs for spending money. Props to Valve for doing this, they are making so much money from it, but it turns Steam into something I hate, I try to avoid all that nonsense.

I say these bad things but so far in like less than 48 hours of the Steam sale going live I have bought Nidhogg, Quantum Break, Outlast 2, Dishonored, The Jackbox Party Pack 2, Batman: The Telltale Series and Middle Earth: Shadow of Mordor. Shattered my spending limit which was $0 and took money out of my account I use for food. Luckily I have a lot of food cooked and frozen, enough that will last me until I get paid. All in all, I am incredibly happy (getting some games such as Shadow of Mordor for as little at $3) and honestly, if I work my ass off just to put money in my bank, what is the point of having it in the bank if I don't spend it on things I enjoy and want. I just now have to make sure I start to go through my backlog of games.

If you wish to see what games I own, or add me as a friend a link to my Steam account is below in the website's footer.